Rebaid offers 5 Plan Levels with varying monthly limits on discount code clips, rebate redemptions, influencer campaigns and access to premium features.
Our Free Basic plan has no monthly cost and allows you to generate up to 10 rebate redemptions and 20 discount code clips. This is a great way to try Rebaid! If your campaign(s) generate more redemptions or code clips than this you will be prompted to upgrade to a paid plan.
Our Startup, Growth and Enterprise plans cost $79, $279 or $479 per month respectively and feature higher limits on discount code clips and rebate redemptions, along with access to Influencer Campaign creation and other premium features.
Our Custom plan allows you to set specific quantities for various promotion types. This plan is a good choice for users that only plan on using a certain feature. Pricing on the custom plan is linear. Rates are $1.50 per rebate redemption, $0.29 per discount code clip, $49.00 per influencer campaign and $29.00 per influencer campaign.
To see the available plan levels click the Settings tab in the left navigation bar of your Rebaid seller dashboard, then click the Plans tab.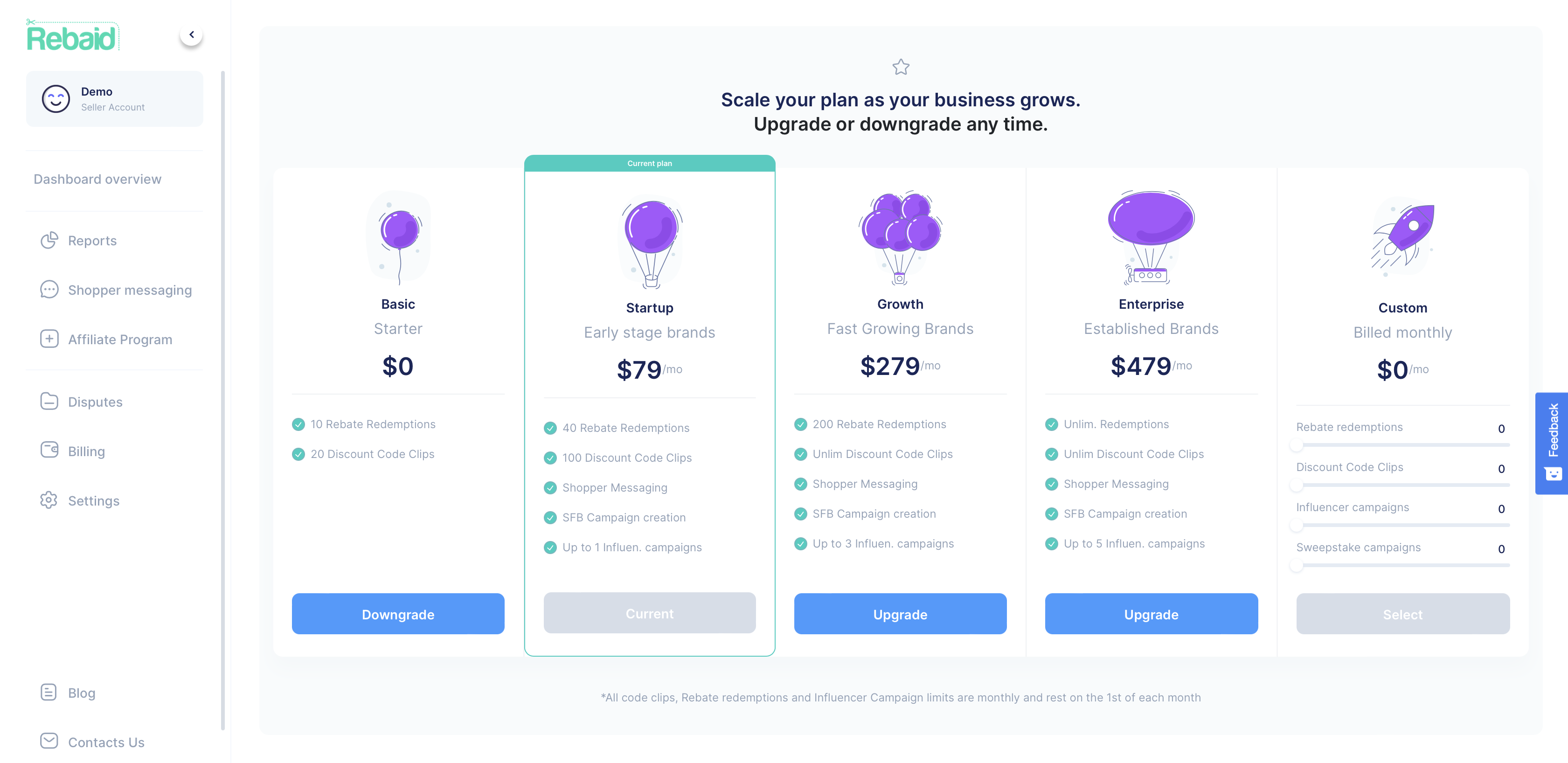 If your account generates more redemptions, code clips or creates more influencer campaigns than allowed based on your plan level you will be prompted to upgrade to a higher plan level before your next billing cycle. If you do not upgrade to a plan that accommodates your usage you will be charged a Plan Overage Fee.
Plan Overage Fee Schedule:
$3.95 per redemption over plan limit
$0.22 per code clip over plan limit
$49.00 per influencer campaign over plan limit
$29.00 per sweepstakes campaign over the plan limit